Hometown
Welcome to my website formerly The Dogs Dinner, now Your Hungry Hound it's going to help you find your way around the complicated world of Diet and specialist Dog food together with some (hopefully) useful information about Pooch's

My name is Cordelia and I live and work in the seaside town of Brighton which is in the UK.  Brighton is known for its unusual inhabitants and "laid back style" its LGBT community and its love of dogs, in fact they are mad about their dogs.
Brighton is super Dog Friendly in fact it  has its very own proper Dog Hotel, it has several dog cafes, (anyone who enters must have or love dogs) together with dog  crèches and even has its own doggy beach. It has many dog boutiques, in fact come to Brighton walk along the sea front and be amazed by all things doggylicious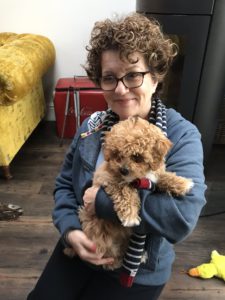 The main love's in my life (not in any order) Dolly my 12 year old West Highland White Terrier, my 23 year old daughter and my partner.
Dolly being an old lady has grown a little around the middle, in fact chubby would be kind, she is sadly fat. I have to take the responsibility for this as I am the one who rewarded her bad behaviour and we both have a pattern of behaviour which is not healthy
So I decided to take some action.
Initially I went to the vets, we joined the Dogs equivalent of Weight Watchers with proper weekly  "weigh ins" and were encouraged to purchase overpriced "prescription only" Kibble.
Dolly has been used to wet food and was incredibly unhappy with her new regime, in fact she became depressed
I was struggling and decided to do some research online but found that whilst there are all manner of diets, replacement foods and meal plans for humans our canine family are left with a bewildering choice in the Wet, Dry or Raw variety.
Over the last few months we have done  some fairly robust  research
So the purpose of my creating this website was to share the research which in turn is pretty useful information.
I personally looked and tried many types of food, I have also researched foods for the fussy eater, together with in depth review checks. I have also written my own reviews. In doing all of this it made sense to me that you too might need some guidance. This gave birth to my website The Dogs Dinner, now called "Your Hungry Hound"
Dolly's story is still ongoing, but so far she has lost 2kg, which may not sound very much but in dog world that is like 2 stone (28 lbs)
If you have any pictures of your pet I would love to see them, or if you have ay questions, feel free to leave them below and I will be more than happy to help you out.
All the best,
Cordelia and Dolly
https://yourhungryhound.com/
Dolly Sleeping, elderly lady now