Keeping Your Dog Occupied 
Dogs can have a low boredom threshold when left alone, some can suffer with boredom or it may escalate to "separation anxiety",  the result can often end with you being greeted on return to the home with an unholy mess. Dolly as mentioned in previous posts could suffer with boredom,  my new job was keeping me away for longer.  How did I keep my dog occupied when away from home?  I found the answer with food.
Let's Talk About Boredom
I recently wrote a post which dealt specifically with Separation Anxiety in Dogs and how you might find a solution with some fairly worthwhile  training methods. But what if, like Dolly your dog is just bored. Bored dogs make their own fun, this could be destroying and chewing objects, digging and even escaping. The latter was a Dolly favourite when she was a teen puppy, we had no idea that a little dog could scale a fence, or dig under the shed, but she did. Never underestimate your dog, they will often surprise you and can be very tenacious. It is this tenacity that you can harness and help solve the boredom issue.
Looking at Boredom Busters  they would have to include keeping your dog mentally and physically active. No matter how busy you or your family you will need to schedule training and play, into your dogs day. This will reap huge reward in a very short space of time.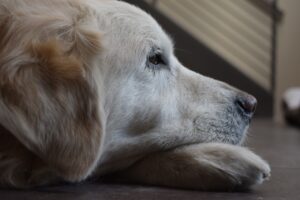 However you still have to leave the dog alone for concentrated periods of time and he is lively. With much research I would like to share How can food help your Dog deal with boredom.
I have written a post about the benefits of Pet Cameras which allow interaction and communication with your dog. This has given me huge peace of mind.
Why Does This Benefit My Dog
Your dog will notice you getting ready for work or  ready to depart from the house, the routine is the same, have you noticed  he starts to become anxious or excited at this point?
What if you introduced a new little regime which is enjoyable, keeps his mind busy and is all about food. The latter is usually the biggest incentive for a dog. We tend to find the more curious your dog the more likely he will have a low boredom threshold and this new habit will keep him engrossed and calm for some considerable time.
You will see the benefits of this new regime very quickly, probably by the third time of using, this will first be apparent when he does not become so anxious on your departure. He may actually start to look forward to you leaving. Thus letting the new food game commence.
I have looked at the 5 most popular and longest lasting Dog Treats and listed below. There are many suppliers but for this post I have looked at Amazon as they provide a very quick turnaround whilst giving real value.
How Does It Work
I needed a way to keep Dolly busy; work was sapping me of both time and energy, it meant  leaving Dolly for such long periods and is never ideal. Dolly is also quite elderly and prone to weight gain and therefore I had to be mindful of what I was adding or introducing into her now sedentary life.
Treats that require  the Dog to continually lick or chew offer great distractions and are something that dogs are genetically programmed to do, if your dog is prone to boredom or separation anxiety then these ideas will hopefully be a life saver.
I have scoured the internet done some fairly robust research (with Dolly) together with reading comments and review sites and these distractions listed below will ensure your dog has a new excitement when you leave the house
1 * Beef Trachea
Until recently I had not heard of Beef Trachea. If I explain what it is you may be slightly put off, however dogs love it especially as it is hollow and you can fill with things like peanut butter (for dogs) it will keep them amused for a very long time and unlike denture sticks they will not have the urge to bury. This gets many excellent owner reviews in fact over 98% were 4* and above.  The ones I have featured are quite big and would suggest sizing down if you have Terrier or smaller.
They are puppy safe and do not have anything which may effect their mouth, teeth or tummy…no more furniture chewing for your puppy when Beef Trachea are involved
Beef trachea is quite literally part of the windpipe of (usually) a Bull.
500g Beef Air Pipe Trachea 5-6 Inch (Approx 10/12 Pipes)
A 100% natural air dried Dog Treat from Beef. Our Trachea has no preservatives or chemicals, and a natural flavour Dog's simply love!
Tasty chew is high in both Chondroitin and Glucosamine for dogs of all ages and sizes!
An excellent form of Dental Hygiene, Trachea also satisfy your Dog's natural instinct to Gnaw & Chew.
Like with all of our Natural Treat. These are Responsibly sourced in Turkey and come with Veterinary Certification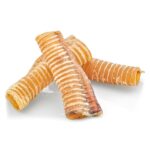 2 * Frozen Treats
Frozen treats are a particular favourite during the summer months. Granted they don't last as long as licking/chewing  treats but on a hot day and as a treat (perhaps if they have been good during your absence) then these make great rewards. They can last anywhere between 5-15 minutes, depending on the size of your dog
For this particular frozen treat I have chosen the Frozzy Frozen Yogurts. You will find these are very popular and sell out very quickly during the summer months. My suggestion is to buy them and freeze in bulk. Amazon sell in a pack of 8. Whilst not the cheapest treat on the market they will offer you and your pet a lot of fun
Lickable Frozen Dog Yogurt straight from the tub
Lactose Free
Highly Palatable
Low Calorie
Suitable for all dogs and puppies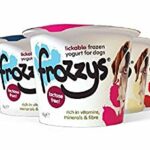 Click Here for Frozzy's Yogurts sold on Amazon
›
3 * Lick Mats – Good Choice
Of all the products we reviewed (Dolly and myself) this was easily the one which gave Dolly the most fun. In addition if you are on a budget then this will be the answer to your prayers. It lasts for a long time and you can keep the interest by changing the filler
spoil them with a lickimat, ideal for cat, puppies, small and medium dogs
Keep your pet entertained with tasty treats
Spread you pet's favourite healthy soft treat over mat surface which will sooth and calm your pet through licking. Keep your pet entertained with tasty treats. Enjoy small treats without overfeeding
Stimulates saliva to aid digestive health. Perfect for runny treats like yoghurt or gravy.
You may receive either Green or orange Mat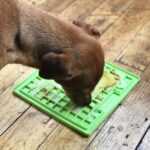 Click Here For Lick Mat Filler
.
4 * Food Dispensing Toys
These types of toys really get the dog working for its supper, however some of the toys may defeat the smaller dog quite simply because they don't have the capacity or lick length to reach to the top. Be mindful of the size of the toy compared to the tongue length of your dog.
The preferred choice by many dog owners and by inference the dogs as well is Kong. The make has been around a long time and has proved it's worth on the market. It lasts longer than many of of its competitors and is worth paying the extra. The Kong Wobbler is the customer choice and it retains its 5* status over all other Kong products.
Dispenses rewards as it wobbles, spins and rolls
Prevents rapid eating
Top screws off for easy filling
Dishwasher safe
Made in the USA of food grade, high-strength polymer; available in two sizes: S and L
Kong Wobbler comes in sizes click below on your preferred size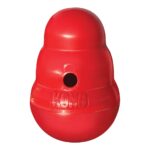 5 * Not Just Denture Sticks
I have long had a problem with the usual denture sticks, apart from my dog trying to bury them and retrieving them months later and bringing a sticky soggy mess into the lounge, my dog actually doesn't really know what to do with them.
However I had to find some alternative way of Dog Dental Hygiene as brushing her teeth appears to cause her great anxiety. The mere mention of "Dolly shall we clean your teeth" is very much along the lines of "Dolly time for your Bath" the outcome is the same, game of hide and or run. Then lots of head turning and kicking. This was until I discovered the Dog Toothbrush Stick Chew. Available in different sizes to suit breed size
* Safe Material
* Easy to Use
* 360 Degree Round Cleaning
* Add Filler or Small Treats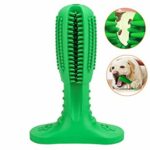 Click Here For The Dog Toothbrush Stick Chew
Final Thoughts 
Sometimes we have to leave our dogs on their own. Whilst we would prefer not to do so there is the inevitable time when you will. Hopefully one or more of the above ideas will give both you and your dog some fun.
I can also recommend Pet Cameras and have written product reviews, this will enable you to see if your boredom busting toys are doing what they are supposed to and which is the favourite.
I would love to hear your comments on what you do for your dog or puppy and if you have any thoughts or ideas. Please add to the comment box below. You may not realise but lots of people get value reading your story
Thank you for reading until the end of my blog post
Until later
Cordelia & Dolly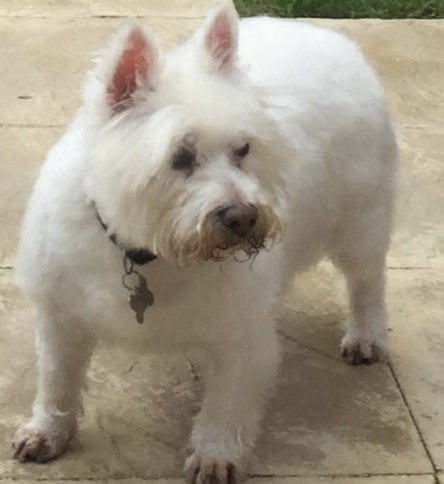 As an affiliate I can sometimes receive a small commission (very smal) but you do not pay any extra
Images from :
The Products
Pixabay
My own library
Please follow and like us: